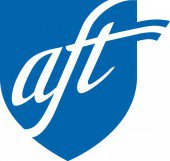 American Federation of Teachers (AFT)
As a nonprofit partner of the Invest in US campaign, the American Federation of Teachers is hosting a series of events to pilot their program Transitioning to Kindergarten.
During New York City's historic pre-k expansion, the American Federation of Teachers and its New York City affiliate, the United Federation of Teachers, are piloting a new edition of the Transitioning to Kindergarten (T2K) toolkit at three Brooklyn schools, PS 156, PS 158 and PS 184. T2K is a free, online resource created by the AFT and the National Center for Learning Disabilities, with tools designed to foster literacy and numeracy skills as well as socio-emotional development. Each school participating in the pilot is a community learning school, centered on the meaningful involvement of families and the community in the education of children.
To celebrate the pilot, AFT and UFT have joined forces with First Book, a non-profit committed to bringing books to children in need. The AFT T2K pilot celebration will give books to preschoolers and showcase the fun activities included in the Transitioning to Kindergarten toolkit. Preschoolers, families and educators at PS 184, will join Randi Weingarten, President of the American Federation of Teachers for this fun-filled event centered on kindergarten readiness.
At the Transitioning to Kindergarten pilot celebration, each preschooler will take home two books selected by their teachers. In addition, each of the schools will receive a collection of books. Books were selected from the T2K Booklist and the forthcoming T2K Multicultural Booklist. Each book was specifically chosen by early childhood educators and AFT members from across the country to align with the skills fostered in the Transitioning to Kindergarten toolkit.
Learn more about this exciting effort and check out Transitioning to Kindergarten.