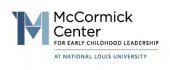 McCormick Center for Early Childhood Leadership at National Louis University
The McCormick Center is committed to empowering individuals to build the leadership and management skills they need to create and sustain exemplary programs for young children. Through professional development, evaluation, research, and public awareness, we promote best practice in program administration. By working with states, professional organizations, and directly with early childhood practitioners, we raise the bar on program quality. Because, when it comes to early childhood education, leadership really does matter.
We commit to launching a civic advocacy campaign in 2015 focusing on the importance of investment in early childhood leaders. Activities will include a series of blog posts, social media campaigns, videos, and e-blasts stressing the importance of investing in expanding the leadership capacity of the early childhood field.