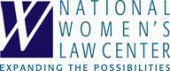 National Women's Law Center
On the day of the White House Summit on Early Education, NWLC, Zero to Three, and MomsRising will lead a twitter storm to highlight the importance of investing in high-quality early learning opportunities.  The twitter storm will be publicized widely through the Strong Start for America's Children Campaign, Child Care/Early Learning Coalition, and our extensive network of state early learning advocates.  Following the Summit, NWLC will assist MomsRising in the delivery of stories and paper dolls to Congress. Given the importance of new funding for child care related to the reauthorization of the Child Care and Development Block Grant (CCDBG), the Center will lead a Valentine's Day messaging activity around the need for increased child care investments.
We will also lead an event in collaboration with national and state advocates to highlight gaps at the federal, state, and local level.  The Center is also committed to supporting other activities related to the Invest in US Campaign to highlight the importance of early learning. Finally, NWLC will produce a guidebook on the new CCDBG law this winter as well as a brief on state child care policies for mothers enrolled in school or training programs.  We will release our annual child care assistance report in October, 2015.  In addition, we will plan a policy briefing on the issues faced by women in low-wage jobs including child care. We will also help to lead offensive efforts to expand investments in early learning and defensive efforts against proposed cutbacks to early leaning and other supports for low-income women.