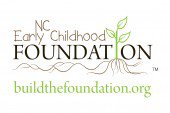 North Carolina Early Childhood Foundation
The mission of the North Carolina Early Childhood Foundation (NCECF) is to marshal North Carolina's great people, ideas and achievements to build a foundation of opportunity and success for every child by the end of third grade. We work to build public will, accelerate what works and ignite action that closes the achievement gap and raises outcomes for all young children.
NCECF's signature First 2000 public engagement initiative, www.first2000days.org, is building bipartisan support for investments in children's early learning. More than 100 NC business, faith, law enforcement and community leaders are serving as champions across the state, giving presentations, signing op-eds and meeting with elected officials. And most significantly, a shift is beginning to take place – communities are moving from "Why early childhood?" to "What can I do?"
We are committed to advancing policies and programs that improve outcomes for young children.