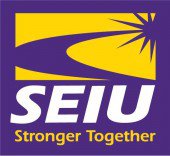 SEIU
The Service Employees International Union (SEIU) unites 80,000 early educators—Head Start Teachers, family child care providers, child care center teachers, and public school staff—as well as 2 million other workers, many of them parents. Over 45% of SEIU parents report that finding and affording child care is a serious problem. Working together for ten years, SEIU members have won improvements to early childhood programs including:  funding to eliminate child care assistance waitlists; increased state payments so early educators can raise their own families out of poverty; and access to health care for children, parents and educators. To push for new early childhood investments, SEIU early educators will mount a joint effort alongside SEIU parents, home-care workers, fast food workers and others who have captured public attention and changed the narrative about what it takes to raise a family with a bright future in the United States. Uniting with communities and families, our members will call for:
New public investment in early childhood for 0-5 year olds
Affordable, quality early education and care for all working families
$15 an hour and a union for early educators.
Upcoming events include:
SEIU Early Educators will join fast food workers, home care workers, and others to call for wages that lift workers out of poverty, a union, and affordable child care.
Show of Hands in Support of Working Moms: Attendees will participate in a "Show of Hands" art project, leaving a painted handprint on paper in support of early childhood.